【Starting from 2017, the Shanghai Municipal Foreign Affairs Office, together with district governments, has started hosting the "Internationalized Shanghai Promotion Series" to help Shanghai turn itself into an international economic, financial, trade, shipping and technology innovation center, and become a global city of excellence and a modern socialist international metropolis.
Following the first two events in Yangpu and Jing'an District, this May, an event series will be held in Huangpu. The event will highlight the advantages of the financial agglomeration in the Bund area and promote the Innovation and Development Demonstration Area for the High-end Service Industry at Bund Waterfront. Eastday.com sat down with some expats who shared their stories of living and working in Huangpu.】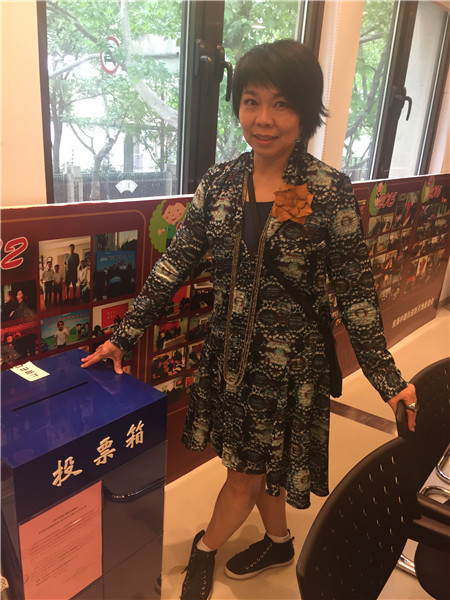 An American community service lover in Xintiandi
At the Xintiandi neighborhood committee, we were very glad to have an interview with Annie Wong, who cheerfully greeted us at the office. As an American expat, Annie Wong was born in Taiwan and grew up in New York in the United States. She went into fashion business after graduation from a top art school in New York and worked as a textile designer on Seventh Avenue in Manhattan from the 1980s to early 1990s. She came to Shanghai in 1998, along with her husband, Mr. Albert Chan, an architect who went to work for Shui On Group in 1997 in Shanghai, leading the planning and design of the Xintiandi project, an iconic landmark in Huangpu today.

Despite the fact Annie can speak and read both English and Chinese, things weren't easy for her when she first came to Shanghai, because everything had to be built from scratch here and the Xintiandi community was sparse 20 years ago and she had to "learn everything and build everything". But now, Annie has seen all the changes that have taken place during these 20 years and set such deep roots in Shanghai that she is happy being a new Shanghainese and would prefer to be considered as coming from Shanghai when she travels to the rest of the world.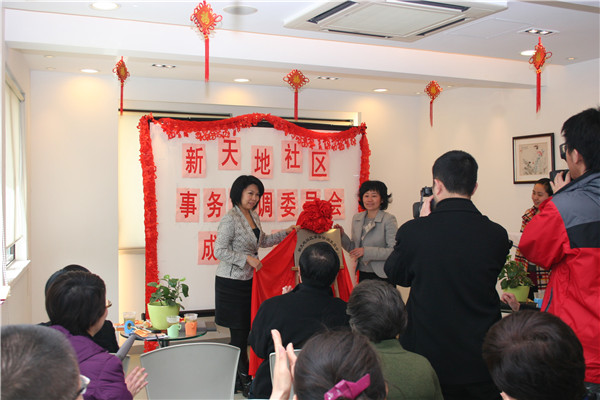 Deep involvement in social services and community support

Annie has "done a lot of work" during these 20 years. What impressed us most, however, is her active involvement in a variety of community services, social services and NGO programs. She founded an interactive children's museum in Shanghai, which is an early childhood development program for children from one to seven years old. The idea of the non-profit museum is education through play, as enshrined in Annie's motto "play to learn and learn to play".
Annie has also been working with the Art foundation of the American Women's Association in Shanghai to supplement schools for migrant workers' children with art, dancing and music classes, because she believes art is a universal language and those children will find confidence through arts and music.
Annie has also been actively engaged in community services. She took the position of Director for the Lakeville owners' association for nearly 8 years. As an expat who can speak different languages, Annie works as a dispute mediator in close cooperation with local police stations and tries to make all residents become good neighbors. She also assists other expats in translation, looking for an ayi (housekeeper), finding a tutor for their children, or even finding a new job after their expatriate employment contracts expire.
Annie was once the head of the Xintiandi Community Coordination Committee, a democratic, autonomous, and self-governed organization established prior to the current Xintiandi neighborhood committee, and she had organized many activities like worm composting and buffet parties for the community residents. In return, the community has given her many awards like nurturing the most well read family and the Five Virtues Family.
Huangpu: the cultural icon of Shanghai
Huangpu enjoys a very rich historical and cultural deposit. As music lovers, Annie and her husband have been frequent visitors to such cultural venues as the Shanghai Concert Hall and the Shanghai Grand Theatre, which are all in the close vicinity of their community in Xintiandi. Annie told us that she is a member of the Shanghai Symphony Orchestra, whose new concert hall is located on Middle Fuxing Road now, and she has been their supporter for 20 years. All these places have allowed Annie to enjoy world-class shows and concerts. Various top-level museums and art galleries clustered in and around Huangpu District also add to the glamour of this district, making it an ideal place for living in Shanghai for expats like Annie. "Among the audience of those classic music concerts in Shanghai, many are youngsters and kids, while in New York and major European cities, most of the audience are grey-haired," Annie joked. "Shanghai is the future of classical music and that's why a lot of world-renowned musicians come to Shanghai to perform their works."
Expectations: greener environment, better healthcare, more diversified education
As a rooted expat and key local opinion leader, Annie also expressed her concerns and expectations for Shanghai.
When speaking of where to live a retired life, she thinks that elements like sunshine, air and water quality are important. "Shanghai is already improving on that," said Annie, "and should continue the efforts to ensure a healthier living environment for all citizens." She also suggested more health facilities be built, especially for expats, who are definitely in need of high quality health care and medication.
In terms of educational reform, Annie said that many gifted students in China may fail at the National College Entrance Exam due to their poor academic records and they need more assistance to support them to bring out their best talents. Otherwise, their confidence might be crushed and their talents wasted. That's one of the reasons why Annie has been involved in the education of Children in arts and music all the way along her Shanghai journey. "Arts and music liberate people and give happiness and confidence", said Annie.
A successful investor in life experiences
Annie struck us as a successful "investor" during the interview, not in terms of stocks or properties, but in terms of good life experiences, which, we believe are what her constant happiness derives from.
"I don't buy showy jewelry. I invest in life experiences like music and travel instead of material things," said Annie when asked about investment. She is a painter and has a good eye and taste for artworks, and therefore sometimes helps her friends to determine what is valuable. What is really valuable to Annie, however, is life experience. She rarely invests in artworks because she believes artworks should be shared and enjoyed by everyone, instead of being put at home and kept by collectors for themselves. "What is valuable is about what's between you and the artwork. How you feel when you are looking at the paintings, how you connect with the paintings. All these are more important than money", said Annie.
Annie has a studio set up on Daxue road, but she spends more time on travelling, art and reading events and exhibitions, social and community services, as well as supporting her family. She would prefer to become a life artist than a mere painter who stares at her paintings all day. During the one hour interview we can feel that the time and money Annie has invested in her life experiences has led her to a fruitful life and generated tremendous positive vibes and great energy for the people and community around her. Here we also send our best wishes to Annie and hope she will continue to contribute to a more inclusive and more beautiful Huangpu!