【Starting from 2017, the Shanghai Municipal Foreign Affairs Office, together with district governments, has started hosting the "Internationalized Shanghai Promotion Series" to help Shanghai turn itself into an international economic, financial, trade, shipping and technology innovation center, and become a global city of excellence and a modern socialistic international metropolis.
  Following the first two events in Yangpu and Jing'an District, this May, an event series will be held in Huangpu. The event will highlight the advantages of the financial agglomeration in the Bund area and promote the Innovation and Development Demonstration Area for the High-end Service Industry at Bund Waterfront. Eastday.com sat down with some expats who shared their stories of living and working in Huangpu.】
  Every year on March 17, which is Ireland's National Day and is also known as St. Patrick's Day, Irish people all over the world hold grand celebrations. On March 10, 2018, a celebration was held at Waitanyuan on the west bank of Shanghai's Huangpu River, where people of different ages and races gathered together and immersed themselves in a sea of green, the traditional color of Ireland.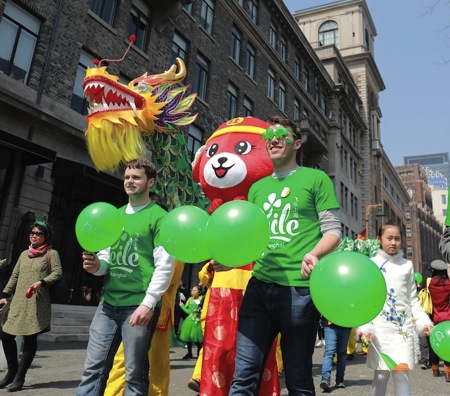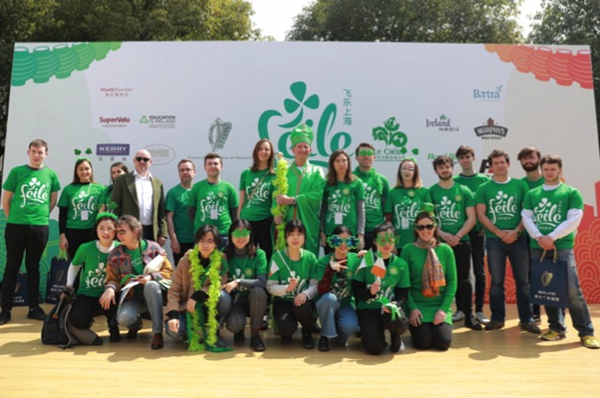 "It was a beautiful sunny day." Recalling the event, Aileen Murray, Deputy Consul General of Ireland in Shanghai was very excited. She took out a pile of photos taken that day and said,"It was a really special event, because it wasn't only a celebration of Irish culture, but also a celebration of Ireland's connection with China. So we had Irish cultural performers there, and we also had local cultural performers from Huangpu district, like Chinese kung fu, facechanging and fan dance. Around 4,000 people attended there and it was really a mix of Chinese and Irish."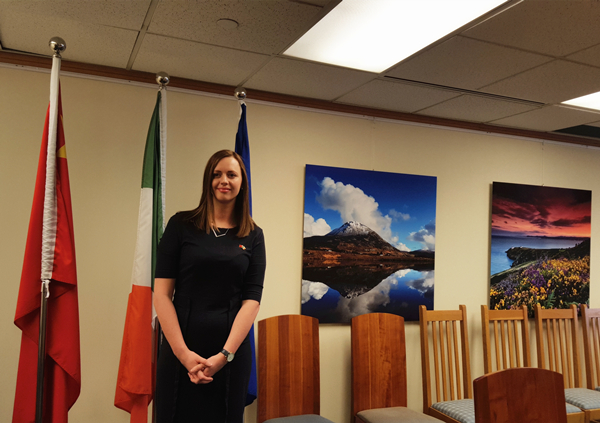 (Aileen Murray)
  Actually it has been 11 years since the Consulate General of Ireland began to host St. Patrick celebrations in Shanghai. It was the largest official celebration of Ireland's National Day in China. "I think it was our best yet," said Aileen happily. "2019 marks 40 years of diplomatic relations between China and Ireland. By then, the celebration of St. Patrick's Day will be bigger than ever. Shanghai will usher in the 12th St. Patrick's celebration."
  In terms of cultural exchanges, besides the Irish National Day celebrations, the annual Bloomsday (a commemoration of the life of Irish writer James Joyce, during which the events of his novel Ulysses, which is set on 16 June 1904, are relived) is also a grand gathering of Chinese, Irish and even world writers and literature lovers. On that day, you can always see Dublin-style celebrations on Huangpu River and along the Bund. That's how a literary work became a cultural bridge between countries.
  Shanghai and Ireland are more than 10,000 kilometers apart. In 2005, Shanghai and Cork, Ireland's second largest city, entered into a Sister City relationship, which is the first Sister City pairing between China and Ireland. Huangpu District witnessed the friendship of the two cities.

  Over the past few years, as a center of foreign exchanges, Huangpu has actively participated in the friendly cooperation between the two cities, and has made unique contributions to the close ties between China and Ireland. The Irish Consulate in Shanghai was first established in Huangpu.
  With the help of the district government, Shanghai Qisehua Primary School established a friendly relationship with a school in Cork. For more than a decade, the two schools have paid mutual visits and made exchanges with each other many times, constituting a highlight of educational cooperation between the two cities. "The Huangpu District government attaches importance to education. It has really shown excellence in education. Some of the teaching programs in maths are considered as the best practices in global scale by many foreign visitors. Quality of schools and students are also very high. That's why we have many Irish schools twinning with schools in Huangpu," added Aileen.
  Every Tuesday, an Irish Gaelic football club made up of both Chinese and other nationalities practice Irish traditional football in Huangpu's Luwan Stadium. As a member of the club, Aileen said, "I started to play it in Shanghai. It's a great way to make Chinese friends."
  Speaking of her life in Shanghai, Aileen said that there are a lot of differences between her home country and Shanghai. "The biggest difference is the size. The population of Ireland is 4.85 million while the population of Shanghai is many times of that. The daily passenger flow on the Shanghai Metro has reached 10 million. I'm quite surprised that for such a big city, it is quite manageable. You can easily travel to the former French concession, going to the Bund or to Jing'an. At the same time we have a lot of similarities: we have big cities with rivers flowing through, a vibrant cultural scene and a real mixture of old and new."
  As an outdoor sports lover, Aileen said, "Cycling in Shanghai is one of my favorite things to do. I regularly use ofo to just cycle around. I can see the amazing history and development of Shanghai. I find it so nice that Shanghai has developed so many open spaces in which you can go running and cycling …" Eating in Shanghai is one of Aileen's favorite hobbies. "Just all different foods from all over China, Asia and the world, you can find them here. On the street where I live, there are about 20 restaurants. My favorite Shanghai food? Definitely Shengjianbao [pan-fried buns]!"
  "The development of Shanghai in the last twenty years is incredibly impressive," says Aileen. "I find that the focus of Huangpu district and many other places in Shanghai is not only on the economy, but also on creating a place that is also livable and welcoming for its citizens. For example, the Waitanyuan area, a development that preserves the history of that area while looking towards the future and showing green spaces."