【编者按】今年是中美建交40周年。岁月无声,光影留痕。7月3日至8月15日,《跨越太平洋的交流与合作——上海纪念中美建交40周年》图片展在上海市档案馆(外滩馆)成功举办。300余幅精心甄选的照片,记录了上海与美国各地方的交流合作进程。我们挑选部分展出的档案照片,为大家讲述照片背后的故事。让我们一起重温过去,立足现在,展望未来。(注:10月22日到12月28日,图片展移师静安区文化馆。)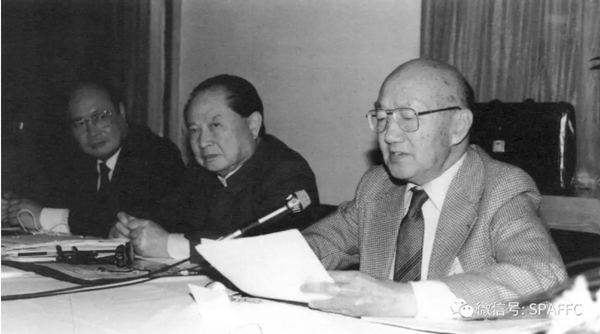 1981年春,汪道涵主持召开建国以来上海市第一次城市规划工作会议。在此会议上,他首次提出要有计划地发展浦东地区。两年后,浦东发展的总体目标确定,即恢复上海国际大都市的地位和功能,建成一个"开放型、多功能、现代化"的世界一流新市区。1985年,上海市委将相关规划报国务院批准。至此,浦东开发被纳入上海发展的蓝图。
  1985年春,美籍华人、著名桥梁专家林同炎给市政府递交了一份《实现现代化的大上海"全面开发可能性"研究》报告。1986年,汪道涵作为市政府经济顾问访问旧金山,特别约见了林同炎。双方就开发浦东的设想做了深度交谈。之后,林同炎对原报告进行修改并向时任市长江泽民递交了题为《开发浦东——建设现代化大上海》的报告,提出浦东的开发问题,建议要立足浦东、放眼世界。江泽民阅此报告后十分重视,请老市长汪道涵全力推进。
  1987年4月,上海市政府设立开发浦东中美联合研究小组,聘请林同炎为高级顾问,接着批准成立了开发浦东联合咨询研究小组,明确"由汪道涵顾问与林同炎建立联系,分别推动双方研究人员密切合作"。
  In spring of 1981, Wang Daohan chaired an urban planning meeting of Shanghai, the first such meeting since the founding of the People's Republic of China. At this meeting, he proposed to develop Pudong area in a planned way. Two years later, Shanghai established the overall goal for Pudong development, that is, to restore Shanghai's status and functions as an international metropolis and build an "open, multi-functional and modern" first-class new urban district in the world. In 1985, the CPC Shanghai Municipal Committee submitted the plan to the State Council of China for approval. This marks the inclusion of Pudong development in the blueprint for Shanghai's development.
  In spring, 1985, Lin Tung-yen, a Chinese American and a renowned bridge specialist, sent a report entitled "Feasibility Studies on 'All-round Development' of a Modern Greater Shanghai" to the Shanghai Municipal Government. In 1986, during his visit to San Francisco as the economic advisor to the Shanghai Municipal Government, Wang Daohan met with Lin Tung-yen. The two had an in-depth discussion about Pudong development. Following the meeting, Lin Tung-yen revised his report and presented a new report entitled "Developing Pudong - Building a Modern Greater Shanghai" to the then Shanghai Mayor Jiang Zemin. In the report, he proposed Pudong development and suggested taking Pudong as the basis and having the entire world in view. After reading this report, Jiang Zemin gave great importance to the Pudong development proposal. He asked former mayor Wang Daohan to carry it forward with every effort.
  In April, 1987, the Shanghai Municipal Government approved the establishment of a joint China-U.S. research team on Pudong development and engaged Lin Tung-yen as its senior advisor. It laterapproved the setting up of a joint Pudong development consultancy research group and decided that Wang Daohan and Lin Tung-yen establish contacts and push ahead with the close cooperation between their respective research staff.