【编者按】今年是中美建交40周年。岁月无声,光影留痕。7月3日至8月15日,《跨越太平洋的交流与合作——上海纪念中美建交40周年》图片展在上海市档案馆(外滩馆)成功举办。300余幅精心甄选的照片,记录了上海与美国各地方的交流合作进程。我们挑选部分展出的档案照片,为大家讲述照片背后的故事。让我们一起重温过去,立足现在,展望未来。(注:10月22日到12月28日,图片展移师静安区文化馆。)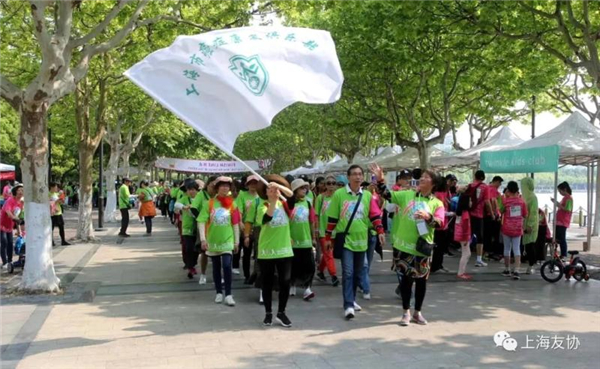 2011年,居住在上海浦东的美国人苏珊,因为她母亲患乳腺癌去世,萌生了想要通过募集资金定向捐助上海癌症康复俱乐部乳腺癌患者康复和参与社会活动的想法,她与一群与她一样在沪生活的外籍太太组成志愿者团队,在每年5月,母亲节前夕,组织家庭慈善跑,以唤起女性通过改善生活方式对乳腺癌进行防治及康复意识。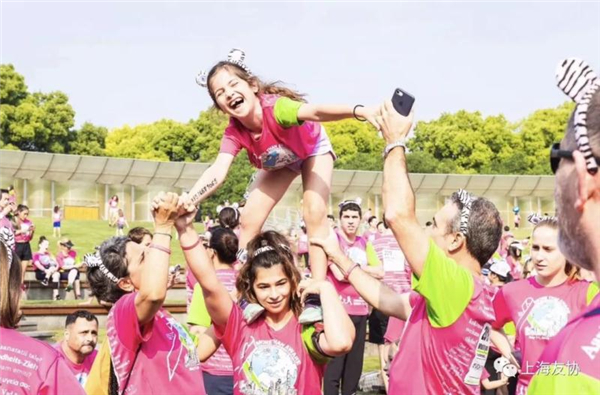 今年是她们第七次举办欢乐家庭跑,也是第三次"全球跑",即身在世界各地的朋友用跑步来遥相呼应上海的这项活动。在近两年每次3000位跑友中,有500位是上海市癌症康复俱乐部的成员,而其中三分之二是新患者。
  上海癌症康复俱乐部袁正平会长说:"我们每年都为新病友预留名额,希望她们尽快融入到社会中来,为康复增加力量。"
  细心的朋友一定注意到,参与者T恤有两种颜色,一种是志愿者和普通参赛者穿着的粉色T恤,另一种是癌症康复者身穿的绿色T恤。袁会长穿的正是后一种。1980年,结婚才7天的他被诊断为晚期恶性淋巴瘤,如今,他已成功迈过了39年。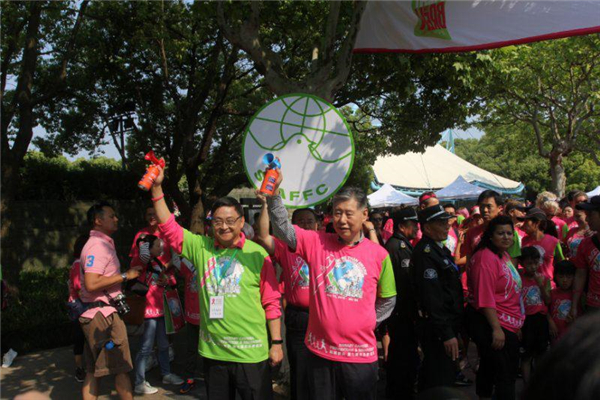 In 2011, Suzanne Calton, an American living in Pudong, Shanghai, whose mother died of breast cancer, came up with the idea of raising funds and donating them to Shanghai Cancer Rehabilitation Club to help the breast cancer patients rehabilitate and take part in social activities. She and a number of foreign wives living in Shanghai formed a volunteer team, which organizes Family Run on the eve of the Mother's Day in May each year. Their purpose is to help women develop awareness of prevention and treatment and rehabilitation of breast cancer through changing lifestyle.
  This year is their 7th Family Run and 3rd"Global Run", that is, their friends in different parts of the world also run in support of this event in Shanghai. In the last two years, there were 3,000 runners each year, including 500 members of the Shanghai Cancer Rehabilitation Club, of whom two-thirds are new patients.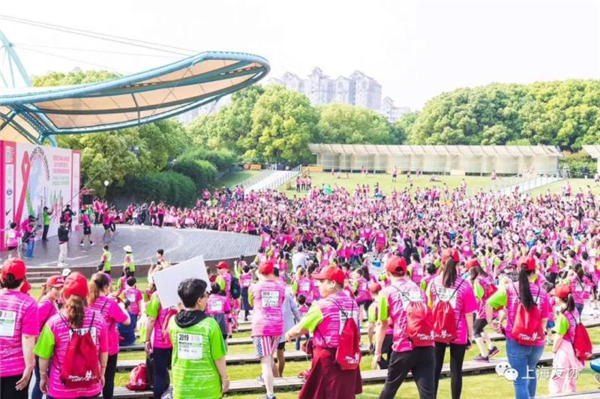 Yuan Zhengping, president of Shanghai Cancer Rehabilitation Club, says that they reserve a quota for new patients each year and they hope new patients will soon integrate themselves into the society and add strength to their rehabilitation.
  Those friends who are careful must have noticed that the participants in the event wear two different colors of T-shirts. The volunteers and ordinary participants wear the pink T-shirts, while cancer rehabilitants wear the green ones. President Yuan wears the green T-shirt. In 1980, seven days after he got married, he was diagnosed as having terminal malignant lymphoma. He has successfully lived for 39 years since then.
  鸣谢:上海癌症康复俱乐部苏珊·卡尔顿