【编者按】今年是中美建交40周年。岁月无声,光影留痕。7月3日,《跨越太平洋的交流与合作——上海纪念中美建交40周年》图片展在上海市档案馆(外滩馆)正式开幕。300余幅精心甄选的照片,记录了上海与美国各地方的交流合作进程。从这天起,我们挑选部分展出的档案照片,为大家讲述照片背后的故事。让我们一起重温过去,立足现在,展望未来。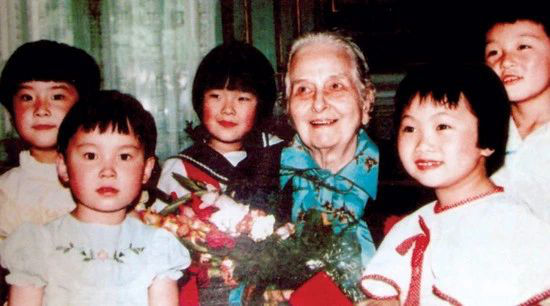 1989年1月,美籍人士耿丽淑荣获首届上海市"白玉兰纪念奖"。1991年3月6日,全国对外友协授予她"人民友好使者"称号和奖章。
  Talitha Gerlach, an American, wins the "Magnolia Silver Award" of Shanghai in the year when the award was established.(1989) Chinese People's Association for Friendship with Foreign Countries confers on her the "Friendship Ambassador" title and medal. (1991)
  耿丽淑(Talitha Gerlaeh)是一位不寻常的美国人,她把一生中的近70个春秋献给了中国人民,定居上海40余年。她是已故国家名誉主席宋庆龄的老战友、中国福利会的长期顾问。
  1986年3月6日,在耿丽淑90岁生日时,时任上海市市长江泽民向耿丽淑颁发了荣誉证书,表彰她"半个世纪以来,对中国人民的进步事业作出了有益的贡献"。1987年6月,她荣获上海市公安局对外国人颁发的中华人民共和国永久居留资格证书,成为上海市荣获这一资格的第一个外国人。
  1989年1月,在首届上海市"白玉兰纪念奖"颁奖会上,耿丽淑等18名外国专家获奖。1991年3月6日,中国人民对外友好协会授予她"人民友好使者"称号和奖章。
  Mme. Talitha Gerlaeh was no ordinary American. She dedicated nearly 70 years of her life to the Chinese people, and lived in Shanghai for more than 40 years. She was an old comrade-in-arms of Soong Qing-ling, the late honorary president of China and a longtime advisor to China Welfare Institute.
  On her 90thbirthday on March 6, 1986, Jiang Zemin, then mayor of Shanghai, conferred on her the "Certificate of Honor" in recognition of "her valuable contributions to the progressive cause of the Chinese people in half a century". In June, 1987, she received the Permanent Residence Qualification Certificate issued by the Shanghai Municipal Public Security Bureau to foreigners. She was the first foreigner to receive this certificate in Shanghai.
  In January, 1989, She and 17 other foreign experts were awarded the Magnolia Award of Shanghai. And on March 6, 1991, Chinese People's Association for Friendship with Foreign Countries conferred on her the "Friendship Ambassador" title and medal.
  鸣谢:上海市美国问题研究所