【编者按】今年是中美建交40周年。岁月无声,光影留痕。7月3日至8月15日,《跨越太平洋的交流与合作——上海纪念中美建交40周年》图片展在上海市档案馆(外滩馆)成功举办。300余幅精心甄选的照片,记录了上海与美国各地方的交流合作进程。我们挑选部分展出的档案照片,为大家讲述照片背后的故事。让我们一起重温过去,立足现在,展望未来。
  美国德州大学安德森肿瘤中心是世界上最负盛名的癌症治疗机构之一,集治疗、科研、教育为一体。上海市新虹桥国际医学中心致力于不断引进国际一流的医疗品牌、技术力量和运营管理团队。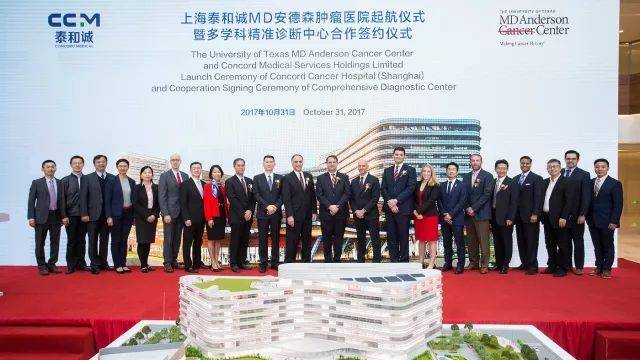 2013年起,在新虹桥医学中心的协调推动下,园区内泰和诚肿瘤医院与安德森肿瘤中心进行了多次沟通谈判和高层互访,达成协议,安德森将为上海泰和诚肿瘤医院提供全方位的咨询服务与指导,包括医院设计、医疗流程、设备配置等方面。
  目前,该项目处于施工阶段,计划于2021年底投入试运营。
  MD Anderson Cancer Center of Texas University is one of the most prestigious cancer treatment institutions in the world. It has functions of cancer treatment, scientific research and education all in one. Shanghai New Hongqiao International Medical Center is introducing international first-class medical brands, technical staff and operational and management teams.
  Since 2013, coordinated by the New Hongqiao International Medical Center, Shanghai Concord Cancer Hospital and MD Anderson Cancer Center have reached an agreement after rounds of communication and negotiations.
  According to this agreement, Anderson will provide all-round consultancy service and guidance to Shanghai Concord Cancer Hospital concerning hospital design, medical process and equipment.
  The project is under construction now and it is planned to be put into trial operation at the end of 2021.