For ordinary consumers, Cannon means products like cameras, lenses and printers. In this year's CIIE, however, Cannon has shown its unfamiliar side with its latest cutting-edge technologies and products in the medical sector to meet demand amid continued epidemic prevention and control.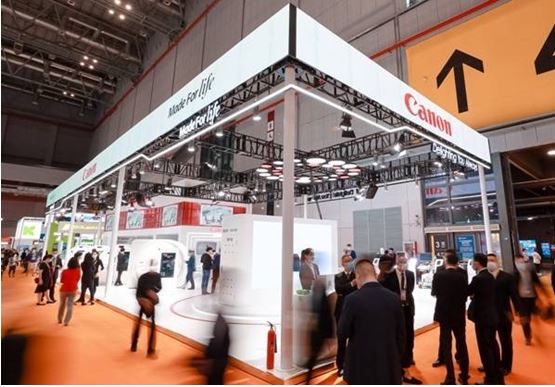 Cannon's booth at the 3rd CIIE

Medical a key word
"This year is very special in that the whole world is battling the novel coronavirus, so this year's CIIE will focus on the medical sector," Manabu Yamasaki, vice president of Canon China, told our Eastday.com reporter. He said that the company has brought along many avant-garde medical technologies and products and hopes to let people know that Canon is not a mere camera and printer manufacturing company and has far more to offer.
The products showcased by Canon include: the Aquilion ONE GENESIS featuring AI-powered wide-area CT; the Vantage Galan 3.0T magnetic resonance imaging (MRI) system; the Alphenix angiography system; the Aplio i900 ultrasound equipment that provides innovative imaging technologies; the TBA-FX8 Automated Clinical Chemistry Analyzer; and the OCT(A)-HS 100 Optical coherence tomography angiography with 1.7 micron-level display resolution.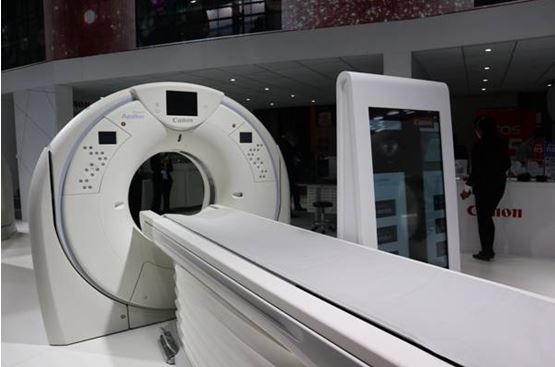 Canon CT Equipment
Eye checking equipment
Manabu Yamasaki told the reporter that Chinese medical institutions are using more than 50 thousand sets of Canon-related medical equipment including CT equipment. In China, many people do not have the habit of having the health of their eyes checked. Canon therefore intends to cooperate with more optical shops so that consumers can use Canon's equipment for eye health check-ups while buying a pair of glasses at an optical shop.
Innovations and changes amid regular epidemic prevention and control
Canon has been increasing its investment in China's market this year and has capitalized on such technologies as artificial intelligence, IOT, and cloud computing to bolster commercial printing, network cameras, medical and industrial equipment ─ the four businesses Canon views as the pillars to its future success. Amid the background of the novel coronavirus pandemic, Canon will accelerate the restructuring of its medical equipment division to expand its medical business.
Yamasaki believes that more and more new business and service patterns are emerging in the Chinese market and there is a lot to do to catch up with "China speed".
At the Canon booth, our reporter discovered some brand new innovative products and services like Smart Workspace Solution, smart IT solutions which are customized to customers' needs. Yamasaki believes that these new things, including smiling face scanning-based printing, door access and attendance checking, temperature taking, meeting room appointment and visitor registration, have been spurred by such scenarios as wearing masks, temperature taking and non-contact communication.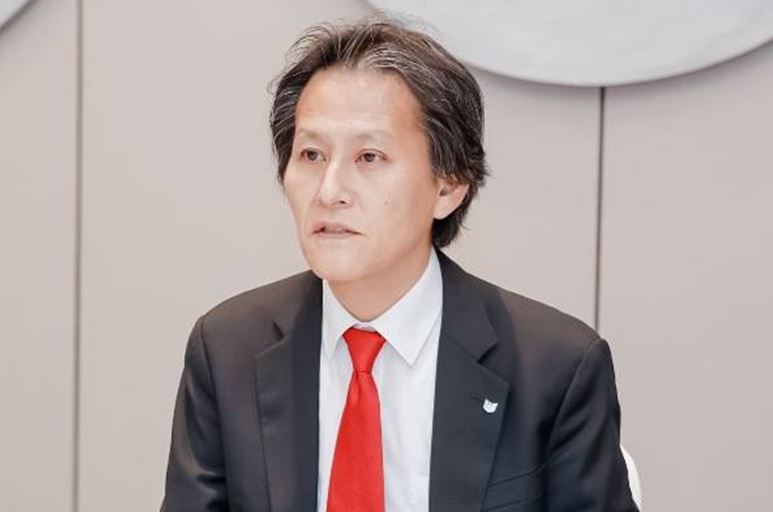 Manabu Yamasaki takes an interview with Eastday.com