Fifty expatriates from 15 countries were honored with the Shanghai Magnolia Silver Awards in a grand ceremony held on September 15, 2021.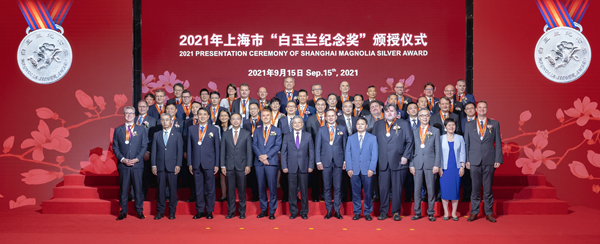 (A group photo of the honorees. Photo by Pan Jiandong)
All the award winners have made their contribution to the city's development in various fields such as business, finance, shipping, education, science & technology, health, sports, and culture.
VIPs including Zhang Xiaosong, director-general of the Shanghai Municipal Foreign Affairs Office, presented the awards.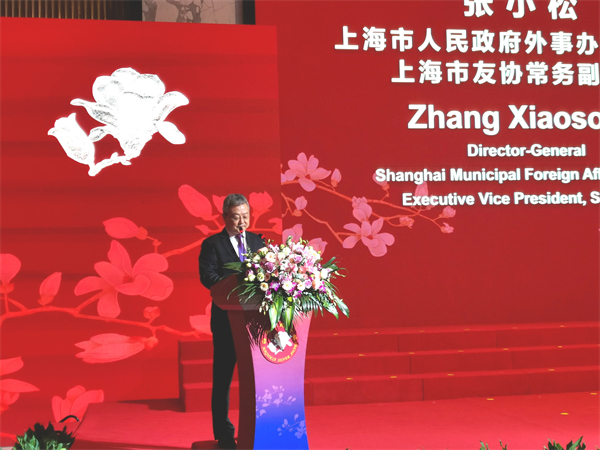 (Zhang Xiaosong, director-general of the Shanghai Municipal Foreign Affairs Office, delivers a speech at the ceremony.)
Kamran Vossoughi, global vice president of Michelin Group and president & CEO of Michelin China, gave a speech on behalf of all the award winners. First coming to Shanghai in April 2019, he still remembers when he received his work permit from the staff of the Exit-Entry Administration, he was told "Welcome to Shanghai! From now on, Shanghai is your home." As time went by, the meaning of the word "home" goes deeper and deeper in his heart. "There is inclusiveness and warmth in this 'home'. There is support and care in this 'home'. There is vitality and confidence in this 'home'," he said. Especially after the outbreak of COVID-19, "more than ever, we feel Shanghai is our home."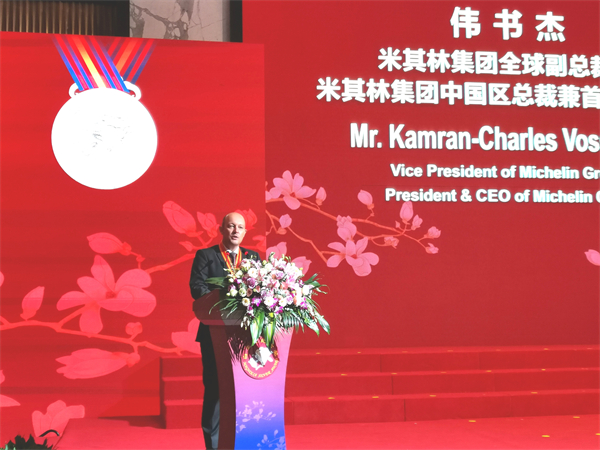 (Kamran Vossoughi gives a speech on behalf of all the award winners.)
"I love you Shanghai!" Coming from Australia, Nusrat Marat (or Lao Bai as his Chinese friends call him) has lived in Shanghai for 12 years. He is a foreign volunteer in Jiangsu Road Sub-District in Changning. "I just did some ordinary things. All the honor starts from Shanghai," he said, adding that he has unforgettable feelings for the city. Nusrat Marat also expressed his gratitude to his Chinese wife who has always been very supportive.
Gary Randolph Knight, chairman of INVISTA (China), has been in Shanghai for eight years. As he put it, this honor is just one example of how good the city is. "I know this award is rarely given. I'm so fortunate to have been given it." He also mentioned his company's partner in China—the Shanghai Chemical Industrial Park, with which he has enjoyed a long and prosperous partnership. "Shanghai is my home. I have a green card and I am a permanent resident in Shanghai. This is where I want to stay."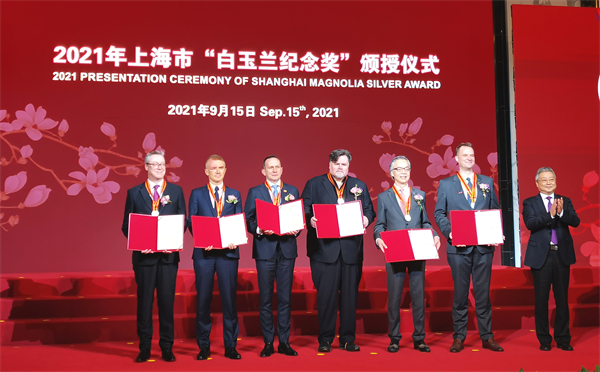 "Shanghai is my friend," said American architectural designer Marshall Strabala, another recipient of this year's Magnolia Award. He has designed China's tallest building, the Shanghai Tower and has been memorized by the city. As he said, he is ready to help any of his Shanghai friends.
Named after the city flower of Shanghai, the Magnolia Award was set up by the Shanghai Municipality in 1989 to recognize the contribution of outstanding international friends to Shanghai's development and international exchange. A total of 1,316 people have received the Award since then.