One million free takeout food containers which are of the association standard will be put into the market this year in Shanghai, announced Meituan, a Chinese online group-buying and takeout service platform on July 30 during a discussion participated in by merchants.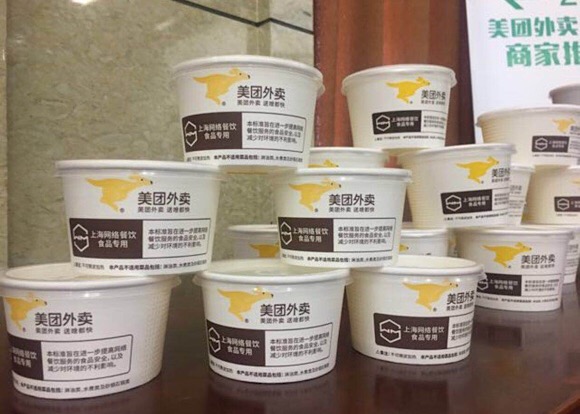 According to incomplete statistics, the average daily delivery order in Shanghai is as high as 1.65 million, producing about 45,000 tons of waste plastic tableware. This has posed a serous burden on Shanghai's garbage system.
Therefore, at the end of April this year, Shanghai issued three association standards related to take-out food service, including the production technical requirements of paper bowls and delivery bags. The standards require that the take-away industry adopt coated paper whose production technology is more mature to replace plastic delivery boxes. The standards, which come into effect from June 1, are expected to help decrease about 75 percent of plastic waste if executed strictly.
Compared with the existing national standards, the association standards issued by Shanghai are tougher in terms of health and safety. Using paper tableware and degradable tableware instead of plastic boxes is nationally pioneering. Moreover, for delivery bags, paper, degradable or textile bags are available as alternatives to traditional plastic bags.
However, although the new standardized delivery bowls could also improve the merchants' image, what worries them most are the cost as well as the single size of the tableware that is not suitable for all kinds of foods and beverages, making the association standards not fully implementable.
The one million standardized food boxes to be used from August are of different sizes to meet the merchants'needs.