The Shanghai Academy of Environmental Science has developed a new mapping system for local urban noise management in China. The data is automatically updated so that the citizens can see the latest urban noise levels every 20 minutes.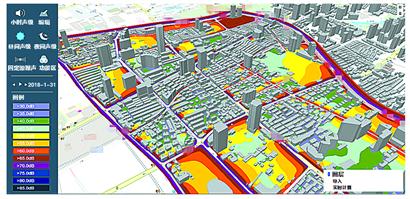 (A screenshot of the Urban Noise Map)
The Urban Noise Map uses 12 colors to represent different levels of noise intensity. For example, dark green is from 40dB to 45dB - as in a moderately quiet environment with a low-level of noise - while red ranges from 60 to 65dB - a medium-high level of noise, where people start to feel disturbed by the noise. Users may gain an idea of the intensity and distribution of the noise from the color and location.
Knowing the level of noise in an area according to the color that represents it is very important. On one hand, it enables people to discover whether the noise level around them has changed, or is dangerously high, and then try to find the cause or avoid that area. On the other, it offers a more scientific city planning and management.
There are difficulties in developing the map. Translating the noise into different colors is not easy, but the deviation is confined to within 3%. Moreover, the map is dynamic, which means that it will automatically update the data every 20 minutes to adapt to the speed of the city's renewal, thus, the calculations required are complex. The map has been developed for six years since 2012 and it is still undergoing improvements.
Up to now, most European countries such as France and Germany, as well as some Asian nations like Japan and Korea, have created Urban Noise Maps, utilized them to control environmental noise and regulate city planning.
Shanghai is the first Chinese city to have an Urban Noise Map, so will serve as a model for the rest of China.