SHANGHAI - Last week, an article about Caoyang Road's "fridges with love" located in Putuo District attracted people's attention. Many citizens added water, soft drinks and even some fruits to the refrigerator for the outdoor workers.
Similarly, Beixinjing Street in Changning District offers ten fridges to provide outdoor workers, such as sanitation workers, traffic police and deliverymen, with free water. The service will last until the end of September when the stifling temperatures will have subsided.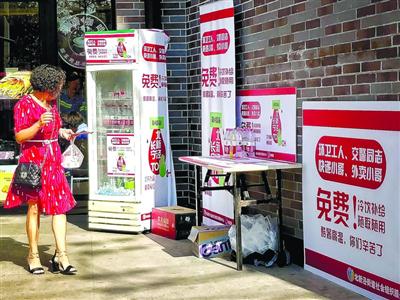 ("A fridge with love" [PHOTO/Jiefang Daily])

One takeout delivery man came by and grabbed a bottle of water saying,"We are always sweating outside, so I have to drink at least seven or eight bottles of water per day." But he considered that there would be lots of people needing to take drinks, thus he took only one bottle at a time.
Although it is stated clearly that the outdoor workers have access to the drinks, some are still shy to take them. Mr. Wu said that he had been working outdoors from half past six in the morning, and had finished his water provided by his workplace."I cannot go back to get water, so I think twice and I'd better have one here."
Wang Yu, the head of the social organization of Beixinjing Street explained,"The outdoor workers are working under such hot conditions, so it is not easy for them to guarantee the normal operation of this city. Meanwhile, it is a way for social organizers and enterprises to join in the good deeds."
This summer, Beixinjing Street continues to launch the "fridges with love" at the traffic hubs, the health centers in the community, supermarkets and other people intensive sites.