Noyan Rona's unceasing devotion to Shanghai's development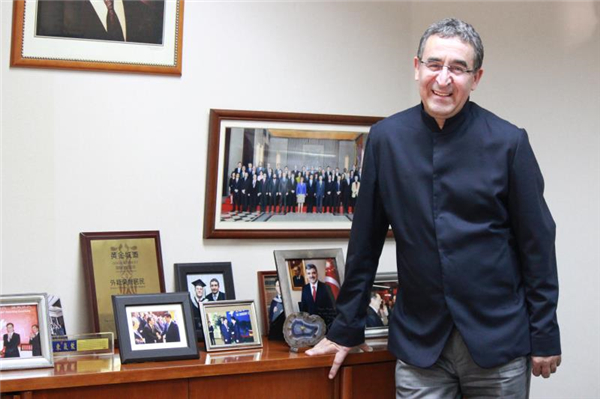 (Hailing from Turkey, Noyan Rona is known as a "Foreign Lei Feng" in Shanghai.)
There are nearly 60,000 taxis running on Shanghai's streets today. The chance of taking the same taxi is therefore very small, let alone meeting the same driver. But such a coincidence happened to a foreigner named Noyan Rona, who was very surprised when he was recognized by the same driver. Behind the coincidence there lies some explanatory rationale. Noyan is well known in Shanghai's taxi trade. He used to train taxi drivers English. Also, he is a service assessor of the taxi trade.
Apart from that, at intersections, in neighborhood committees, blood centers, and nursing homes, people can find the Turkish foreigner. Having been in China for three decades, he cherishes his "exclusive memory" of China's reform and opening up. From a young foreign student to a warm-hearted Shanghai resident, he shows us his Chinese heart and his love for Shanghai.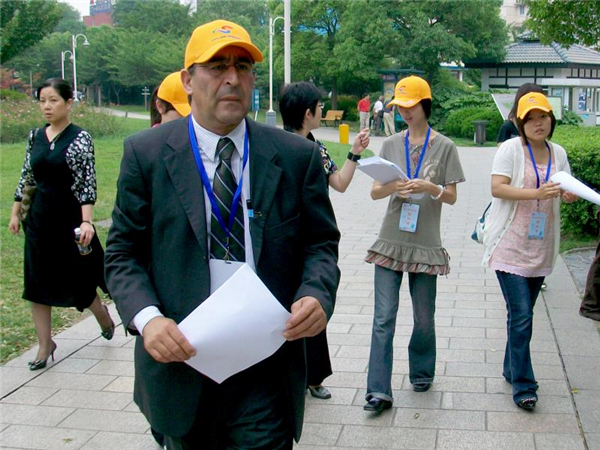 (Noyan does volunteer work in a community.)
Back to the 1980s
Chinese people born after the 1960s might have seen a 1983 film titled College Girls Dormitory. The film was shot mainly at Wuhan University. It is therefore no surprise that you might see some student extras from Wuhan University. Of great surprise, however, is that one of them is Noyan. Although he appeared only in four shots, Noyan said with pride, "I was paid five yuan." (In the 1980s, 5 yuan was not a small amount.)
In 1983, Noyan, a graduate of Chinese Studies from Ankara University, came to China for further studies as the first batch of government-sponsored students from Turkey. He studied Chinese at the Beijing Language Institute (now Beijing Language and Culture University) and then studied for a master's degree in history at Wuhan University.
Noyan said, "At that time, as China had just launched the policy of reform and opening up, there weren't many international students in Beijing. China had not established diplomatic relations with many countries, so I came here earlier than most foreigners." With the scholarship from the Chinese government, international students were relatively affluent, but due to the poor conditions of the whole society, Noyan lived a hard life, like most Chinese did.
"There were frequent power outages. Hot water was provided only two days a week. The heaters were on for two hours a day, so I suffered a lot from coldness (in winter). When traveling, we had to take a bus, as many people couldn't afford a bicycle." What's more, foreigners' travel in China was restricted. "Every month the Chinese government would publish a list of cities that were open to foreigners. I had to get a permit before travelling from Beijing to Wuhan."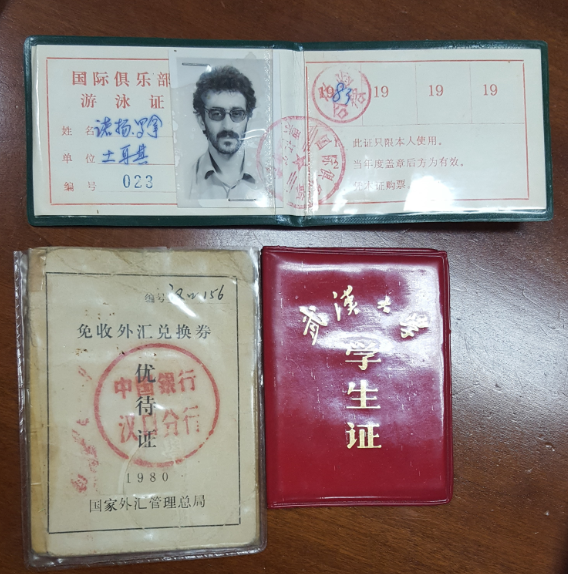 (Noyan still keeps his swimming card, privilege card and student card issued when he was studying in China.)
In the 1980s, due to the ban on foreign currency circulation in China, RMB and foreign exchange certificates were used on the market. As Noyan noted, at KFC, customers stood in two lines. One line was made up of Chinese people holding RMB notes, while the other consisted of foreigners holding foreign exchange certificates. With a foreign exchange certificate, people could buy imported and scarce goods in licensed stores. As a government-sponsored foreign student, Noyan was granted a privilege card with which he could use both RMB and the foreign exchange certificate. He still has a 10-yuan RMB note, which was the largest face value of Chinese money at that time.
(Cover of Noyan's postgraduate thesis)
After graduating from Wuhan University, Noyan worked for the Turkish Ministry of Foreign Affairs, the Turkish Embassy in China and then the Turkish Consulate General in Shanghai. In 1999, he joined Turkey's second largest bank, Garanti Bank, as Chief Representative of the bank's Shanghai office. Garanti Bank is the first Turkish bank which set up a representative office in China after China launched the reform and opening up policy in 1978, as it was believed that Shanghai, as China's financial, industrial and service center, was full of potential. And it has since proved that the bank made the right decision. As Noyan put it, the financial market back in 1999 was like a flower bud; waiting to be developed, but not open enough. However, thanks to the relaxation of policies, foreign banks are now less restricted. They can even open branches and register local banks in China. "Now, Shanghai is nothing short of an international financial center," said Noyan.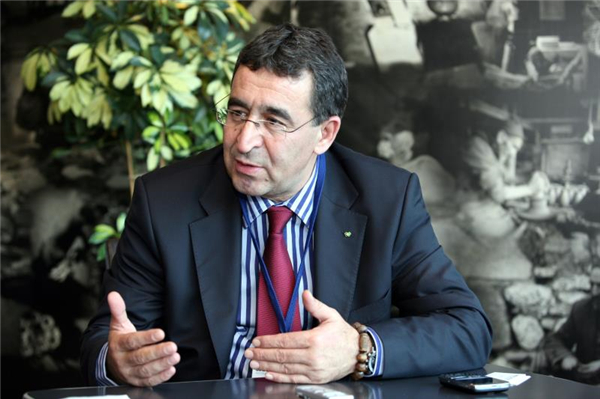 (Noyan is Chief Representative of Garanti Bank's Shanghai office.)
Despite transferring to the business circle, former diplomat Noyan is still concerned with China's economic and social development. Every day he reads six or seven newspapers including the People's Daily and Shanghai Daily. He also serves as a visiting professor at Northwestern University and Shanghai University, sharing his views on Sino-Turkish relations with college students.
With a connection with China which dates back 30 years, Noyan truly understands the hardships and difficulties China has met with since the country's reform and opening up. He has also witnessed the hard work and diligence of the Chinese people. "In the 40 years of reform and opening up, China has changed 400 times." In his opinion, what China has achieved today has "surpassed people's imagination."
"Foreign Lei Feng" in Shanghai
In a book cabinet in Noyan's office, there are rows of honorary certificates and awards, most of which are to recognize his contribution to Shanghai's urban governance and community service. The issuing organizations include the Shanghai Drainage Management Division, Changning District Civilization Development Committee and Hongqiao Subdistrict. It is hard to imagine that a foreigner in an unrelated high job position would be so concerned with Shanghai's urban development. However, after taking off his suit and putting on a volunteer vest, he can be seen in many areas of Shanghai, cleaning up garbage, coordinating traffic control or pointing out citizens' uncivilized behaviors.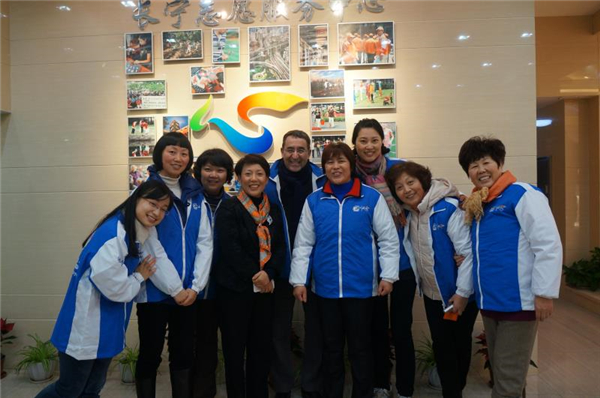 (Noyan and his teammates in a volunteer service center in Shanghai's Changning District)
For Noyan, everyone should participate in volunteer service, regardless of nationality. Shanghai welcomes people from other countries, and as a resident, foreigners have the responsibility to contribute to building a better and more harmonious city. What's more, only by doing it themselves will they feel fulfilled.
Since he began to settle down in Shanghai in 1996, Noyan has lived in Changning's Gubei New Area for 18 years. He has taken part in various volunteer and charity activities organized by the Ronghua Neighborhood Committee and even offered to sponsor 10 students from underprivileged families. As a consultant to the Gubei New Area Neighborhood Committee, he was engaged in the management of the international community, so as to help more foreign families to integrate themselves into the city. As a warm-hearted and enthusiastic citizen, Noyan has also made a lot of efforts to create a more civilized Shanghai. The most noteworthy is that one year before the World Expo 2010 kicked off, he led a team of foreign volunteers to carry out greening, cleaning, traffic management and English signage correction in the city, considering preparing for the Expo to be as much their business as native Chinese.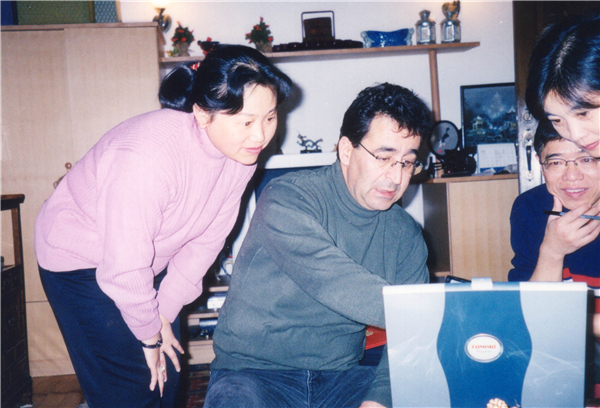 (In 2004, Noyan attended a group discussion in Ronghua Neighborhood Committee.)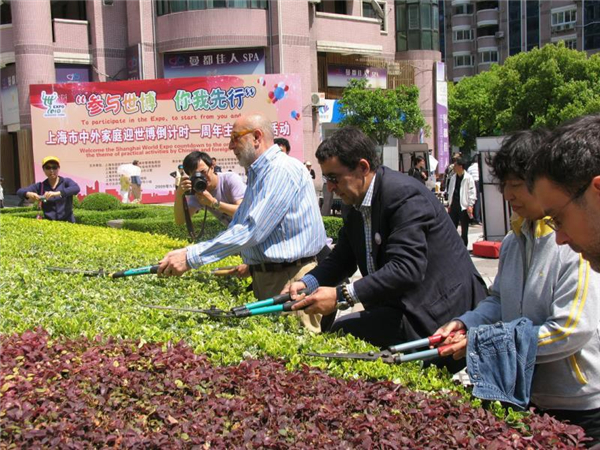 (In 2009, one year before the World Expo 2010 kicked off, Noyan took part in an urban greening activity in Shanghai.)
As time goes by, charity work has become part of Noyan's life. Now he no longer lives in Gubei, but he has not stopped volunteering. For him, one simple way to do charity work is to collect old clothes from his friends regularly and send them to the community center for recycling.
The number of foreigners in Shanghai has been on the rise. According to statistics, the number of foreign residents in Shanghai ranks first in China. Their number in Shanghai has increased from 45,300 in 2000 to 169,000 in 2017. Noyang noticed that foreigners used to live in a concentrated area, but nowadays, Shanghai has foreigners residing in all districts. "In this sense, Shanghai is one step closer to an international metropolis." When it comes to the management of international communities, Noyan voices some advice based on his community work experience. Shanghai offers a comfortable environment and standardized services for foreign residents, but improvement is still necessary in education, medical care, and housekeeping services.
Noyan likes to find fault with the imperfect aspects in the city and has even submitted a lot of suggestions to the authorities. In the meantime, he has witnessed significant changes in Shanghai's hardware and software construction. What he most appreciates is Shanghai's public security, convenience, and the efficient and diversified services. Back in 1991, when he first visited Shanghai, he could hardly adapt himself to the city and even felt disappointed, "Although Shanghai was already a big city with a strong industrial basis, it was not as prosperous as Beijing." So during his stay in Shanghai, he always wanted to return to Beijing. But later, he gradually integrated into Shanghai's society, environment and lifestyle. For him, Shanghai is now better than Beijing. He has been amazed by Shanghai's rapid development and changes, especially after Pudong was developed.
In 2012, Noyan was honored as an honorary citizen of Shanghai. Once in an interview, he said that was his biggest wish and his most cherished honor. "In 2005, I won the Magnolia Gold Award. I waited for 7 years before receiving the honorary citizenship. The citizenship is not awarded every year. As far as I know, many of the past honored citizens are no longer living in Shanghai. So I cherish this title all the more." Today, his wish has come true. When asked about his next wish, Noyan replied that he is willing to become a Shanghai CPPCC and continue contributing to the city's urban governance and development and voicing his suggestions.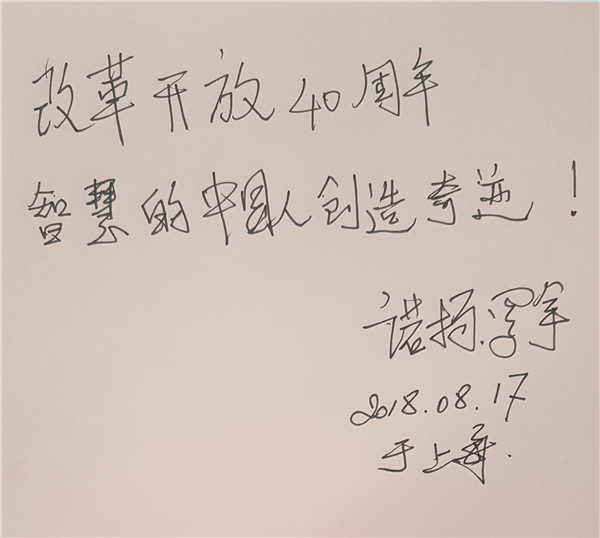 (Noyan's summary of China's reform and opening up: The past 40 years of reform and opening up have been a wonder created by the wise Chinese people.)