【改革开放40周年40人】CEO of Volkswagen China: openness and competition drives innovation and future
CEO of Volkswagen China: openness and competition drives innovation and future
On April 11, 1983, a hand-built car slowly ran out of an old factory in Anting in northwestern Shanghai. On it there was a board saying "VW-SANTANA." Three years later, in 1986, the annual output of Santana sedans made in China reached 10,000, while in 1978, the annual output of the Shanghai brand sedan - China's largest sedan brand - was only 5,000, less than the daily output of any foreign carmaker. Worse still, Chinese cars like Shanghai brand sedans were outdated compared to the West as they were assembled manually.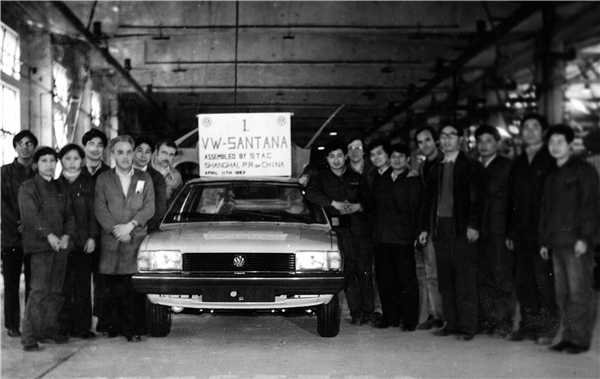 (First VW Santana in China, assembled in Shanghai Car Factory on April 11, 1983. Photo provided by Volkswagen Group China)
Entering the 21st century, though production of old Santana cars has stopped, they have left an indelible mark in China's history. Thanks to China's reform and opening up, Santana became a household name across the country.
This is the legend of Volkswagen in China. Today, 40 years after the policy of reform and opening up was launched, while looking back on the group's history in China, Prof. Dr. Jochem Heizmann, President and CEO of Volkswagen Group China, said he has tremendous respect for a forward-thinking and strategic decision made in the 1980s.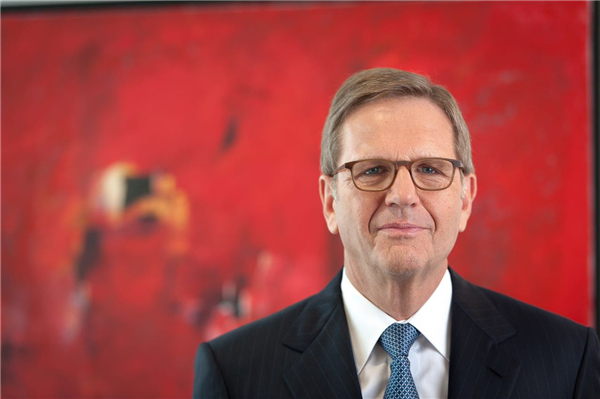 (As President and CEO of Volkswagen Group China, Prof. Dr. Jochem Heizmann is a member of the Board of Management of Volkswagen AG.)
Basis of Volkswagen's success in China
The story goes back to 1978. To earn foreignexchangethrough export, China decided to introduce a car assembly line to Shanghai. In November, then Vice Chairman of the Central Committee Deng Xiaoping ordered the implementation of car projects in Shanghai in the form of joint ventures. Before long, the Chinese machinery industry delegation paid a visit to the headquarters of Volkswagen Group, which was the beginning of more than 30 negotiations which lasted as long as six years. Topics to be negotiated ranged from joint venture law and foreign exchange payment to technology transfer.
Eventually, the two sides agreed on the first Sino-foreign joint venture in the machinery industry - Shanghai Volkswagen Automotive Co., Ltd. (Shanghai Volkswagen, now renamed SAIC Volkswagen)- with an investment proportion of 50:50. SAIC Volkswagen was the first Sino-German joint venture in China, whose success has set an example for all joint ventures in the automobile industry.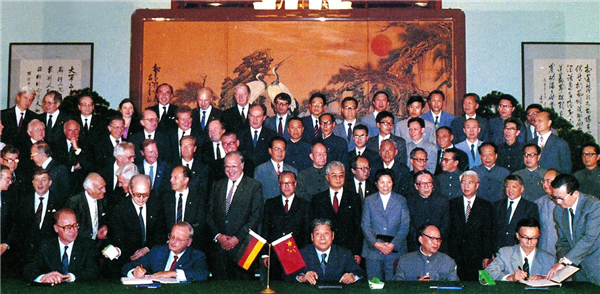 (The joint-venture agreement for SAIC Volkswagen was signed at the Great Hall of the People in Beijing on October 10, 1984. Photo provided by Volkswagen Group China)
In the early 1980s, foreign companies did not have much interest in the Chinese auto market, which they believed was immature for developing the sedan sector. After all, China's GDP per capita was only around 200 US dollars, and before Volkswagen entered the Chinese market, China's car usage rate was extremely low (for every 2,500 citizens, there was 1 car). However, Volkswagen was willing to provide its advanced technology and partner with China in the form of a joint venture.
Recalling the strategic decision made by Volkswagen, Prof. Heizmann is full of gratitude and respect, believing that was the cornerstone of Volkswagen's success in China. In the early 1980s and the early 1990s, from the establishment of SAIC in the South of China to the founding of FAW in the North, Volkswagen has undergone tremendous growth in China as the country has adhered to the policy of reform and opening up.
In his opinion, the joint venture is the result of a forward-thinking decision. "I'm sure nobody at that time had in mind that we could sell last year (2017) over more than 4 million cars, so this was far away from any perspective in the 80s."
The opening up policy is the basis for Volkswagen's success in China. In the meantime, as Prof. Heizmann put it, "Volkswagen has really helped in these decades to support and develop the Chinese automotive industry, and this is still our intention these days and in the coming years."
Since its founding, SAIC Volkswagen has been in line with Volkswagen's production standards. In 1984, although the joint venture project had been realized, China, in desperate need of foreign exchange, met real difficulties: almost all parts of the Santana sedan had to be outsourced. Therefore, it was high time for the localization of Santana. However, as Germans are famously strict regarding product quality, all the components made in China required German certification.
Taking the challenge, SAIC Volkswagen managed to make Santana on its own. In 1990, the localization rate of Santana exceeded 60%, and starting in 1996, the rate has been above 90%. Nowadays, SAIC Volkswagen is one of China's largest modern sedan production bases.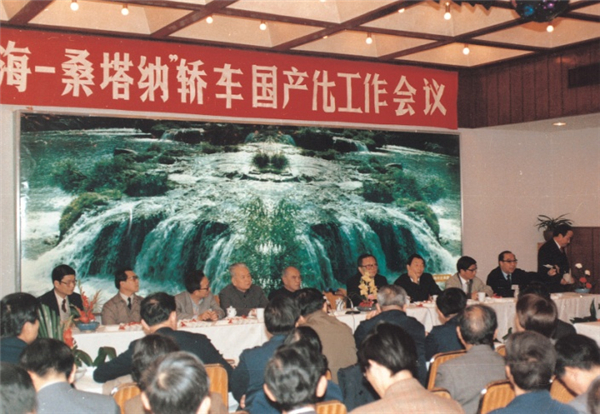 (On December 21-25, 1987, the China Association of Automobile Manufacturers and the Shanghai Municipal People's Government convened a meeting on Santana's localization. Photo provided by SAIC Volkswagen)
Transformation in China's rapid development
Prof. Heizmann began his career in car manufacturing in 1982. As a veteran in the auto making industry, he has spent much time in China. In the eyes of his Chinese colleagues, he is an amiable man.
Speaking of his relationship with China, he smiled with pride, "I've been here in China with different responsibilities for more than 25 years, which started in 1991 when I had just moved from Audi to Volkswagen. I have been to a lot of countries before, but not one like China is so fascinating to me." He still remembers how China in 1991 was a country of bicycles and what the bicycle-filled streets in the middle of Beijing looked like. But what was fascinating for him was that he knew these things would change extremely fast.
He even asked his son, who also studied and worked in China for a period of time, to learn Chinese. He still believes that China is "a fantastic country where you can learn a lot, which is still on the move and still developing extremely fast." In his eyes, the speed of China's development is faster than any other country.
In the 1980s, at the early stage of reform and opening up, China's auto market featured an imbalanced product structure: heavy vehicles outnumbered light vehicles and there were few sedans. The domestic sedan production in 1985 was less than 5,000 while the number of imported sedans reached 100,000.
In the 1990s, China's auto industry underwent a shift from a planned economic system to a market economic system, and carmakers were able to do R&D independently. Through the introduction of foreign technology and joint ventures, the product level was greatly improved. In the 21st century, after China's entry into the WTO, China's auto market scale took shape. In particular, the technology of sedan production was greatly improved, and new models keep springing up.
In 2009, China surpassed the U.S. for the first time as the world's largest automobile producer and seller. Nowadays, China can independently produce all kinds of automobiles, be they heavy, medium, light, micro vehicles, passenger cars or sedans. Imported vehicles only account for 5% of the entire auto market. The automobile industry has become a pillar of China's national economy. Having been in China for 25 years, Prof. Heizmann stands witness to China's transformation from a kingdom of bicycles to a country of cars.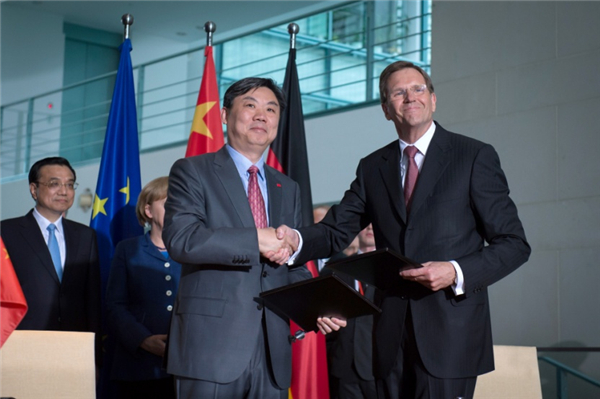 (Volkswagen Group and SAIC agreed on investment in Changsha plant on May 26, 2013. Photo provided by SAIC Volkswagen)
At this year's Boao Forum for Asia (BFA) annual conference, it was announced that China would expand its opening up and would lift restrictions on foreign ownership in the auto sector. Inevitably, Volkswagen will face more challenges from international auto companies. But as Prof. Heizmann said, "This is the absolute right policy, to open up to fair competition. Competition drives the future; competition drives innovation. In this context of further opening up, ending some restrictions, having the same international standards for every company in China, I'm absolutely convinced that this helps a lot for the further development of the economy here and for the wealthy development of the company, and it helps bring more employment."
In the future, how will Volkswagen Group China lead the Chinese market? According to Prof. Heizmann, today's key topics are the development of e-mobility, digital, connectivity, AI-based technology and the direction of autonomous driving, and these things are developing really fast in China. "We are part of that. We have to be part of this transformation process and are preparing the future in all of these areas."
To this end, Volkswagen is working together with partners in China such as the big three (Alibaba, Tencent and Baidu) and local startups. For instance, in the field of AI-based digitalization services, Volkswagen has joined hands with Mobvoi to set up a joint venture that focuses on "Internet plus Automobile"; in the car sharing business, it has invested in GoFun under Shou Qi Group to offer customers more mobility services and options.
At present, Volkswagen Group China is in a transformation process from a car manufacturer to a people-centered provider of sustainable mobility. "That means saving the environment is our top priority. This is not only pushing new energy vehicles but also changing the behavior of our people. We have interesting programs to teach young people and children how to protect the environment. We are very proud to do that and play, as we did in the last 35 years, a responsible role here in the society of China."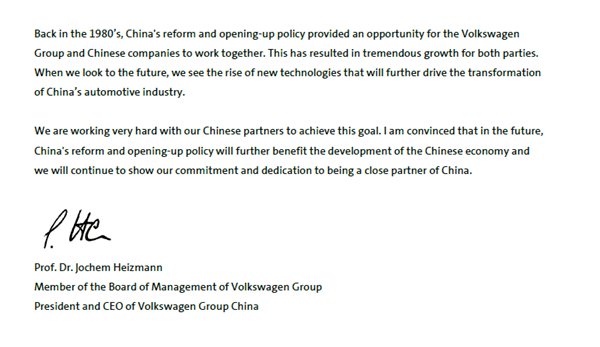 (Prof. Heizmann's wishes for China's reform and opening up)