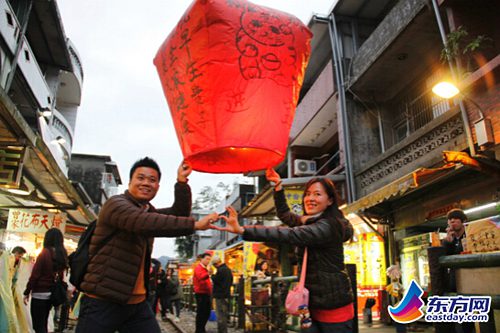 A couple flies a lantern to pray for happiness in Pingxi Old Street, New Taipei City.
Fifteen couples from Shanghai arrived in Taipei on the afternoon of Dec 7, 2015, starting their romantic honeymoon trip in Taiwan. The 8-day event hosted by the two media partners Eastday.com and Want Daily across the Straits will provide mainland newly-weds with a taste of sweet love and Taiwan culture.
Launched in September, the event openly recruited 15 couples for the free honeymoon trip in Taiwan through the news application 'Aoxiang' of Eastday.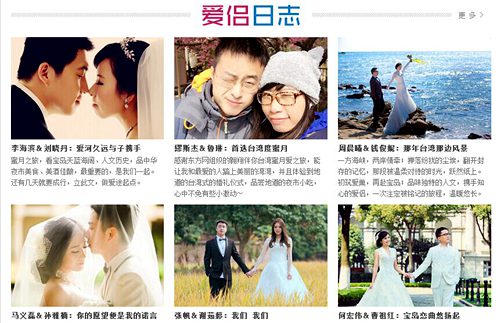 Daily records of honeymoon trip by newly-weds

These 15 couples start from Taipei and will skirt the island, experiencing the unique charm of Taiwan. They will attend the aboriginal wedding, fly lanterns in Pingxi Old Street, and visit landmarks and tourist attractions.
With the closer cross-straits relations, there are more and more cultural exchanges between Chinese mainland and Taiwan. The event of honeymoon trip will combine wedding elements with the scenic spots in local cities and counties to draw more mainland couples to have honeymoon trips in Taiwan and promote the peaceful exchanges across the Straits.
Have a taste of aboriginal life in Taiwan's Ali Mountain >>
DIY sugar, Amis and Mr. Brown Avenue...on way from Hualien to Kaohsiung >>
Photos: Honeymoon trip in Hualien >>