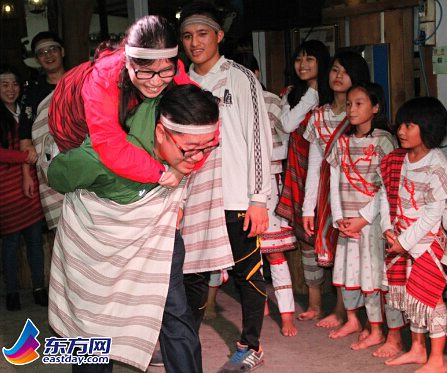 Fifteen newly-weds from Shanghai attended a group Taiwanese aboriginal wedding in East Taiwan's Hualien on Dec. 8, 2015, which was one of the highlights of the mainland couples' honeymoon tour around Taiwan. This 8-day event is hosted by Eastday.com from Shanghai and Want Daily from Taiwan.
The couples, dressed in Taroko (a group of aborigines in Taiwan) clothes enjoyed traditional music and dance, learning about Taroko culture such as hunting, weaving and marriage customs.
According to Taroko convention, if a man loves a woman and wants to marry her, he must break through difficulties, sneak into her home and carry her back, and then the couple is thought to get married.
So, a wife-carrying activity was conducting at the scene with laughing and cheering, as a proof that the husbands have the ability to protect their wives.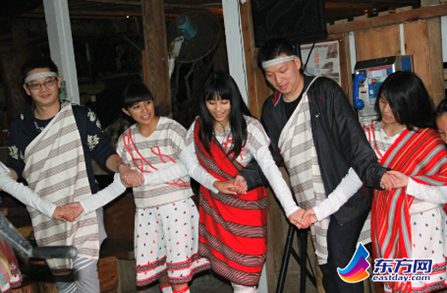 Deputy Head of Hualien county Xu Xiangming was also present and drank a toast to the couples. He introduced that Hualian has the greatest number of aborigines and retains the most complete aboriginal culture in Taiwan.
Xu hopes that the newly-weds will have more communication and exchange just as the love-themed event draws the both side of the Straits closer.
'I'm so happy today and deeply moved by the beautiful scenery of Taroko Mountain and hospitality of the aborigines', said a bride Liu Xiaodan, 'I feel we are close like a family'.
Starting from Dec. 7, the 8-day free honeymoon trip provides mainland couples with a taste of sweet love and Taiwan culture. The around-the-island route includes Taipei, Hualien, Taidong, Kaohsiung, Chiayi, Yunlin and New Taipei City.
Have a taste of aboriginal life in Taiwan's Ali Mountain >>
DIY sugar, Amis and Mr. Brown Avenue...on way from Hualien to Kaohsiung >>
Photos: Honeymoon trip in Hualien >>
Shanghai couples arrive in Taiwan to start honeymoon trip >>